Tutorial with Jonathan Kearney on Tuesday, 16th January 2019 at 4 p.m.
Issues discussed:
Jonathan has helped me to regain focus on what I am trying to explore during an hour-long video call on Skype.  When discussing my individual ideas, his particular attention was drawn to the brutality of the process of blasting of images in contrast to the sensitivity and gentleness of individual layers achieved.  Jonathan emphasised the value of this type of experimentation and reinforced the importance of the creative practice in visual research:
"the physical process of blasting images is in the centre of your research and practice".
(Kearney, J. 2019)
He also suggested that my trajectory was clear and a degree of hesitance and uncertainty of direction is very much a part of the overall process of risk-taking and visual experimentation.
The option of transferring images onto reflective surfaces was discussed and partially rejected.  This is due to the destructive aspect of the behaviour of the audience in the context of this type of interaction. The attention of a viewer could be placed firmly on their "look" and impression in the mirror rather than the intended reflection on the meaning of the work.
My immediate work plan is to continue with the process of blasting images and over-layering  them using screen printing, painting and image transfer.  The portfolio of my primary sources will be triangulated and extended during the planned trip to Georgia and Azerbaijan in April, and Thailand and Burma in July and August 2019.  I will also consider using sources from my local environment.
The principle of the working process and methodology will remain the same.
It was also recommended to look at the work of Mark Bradford.  His unique collages and paintings on paper possess an organic quality and are frequently based on a grid-like composition. The surface of his work has got a highly textured, layered and almost typographic quality, making references to the dynamism of a metropolitan landscape.
This is supported by the bleeding of colour and layering.
Mark-making and painterly gestures are also very important elements in the overall work – all making a contribution to the painterly process.
Mark Bradford
B.1961
SPEAK, BIRDMAN
signed on the reverse
mixed media on canvas
59 1/2 by 70 1/2 in. 151.1 by 179.1 by cm.
Executed in 2018.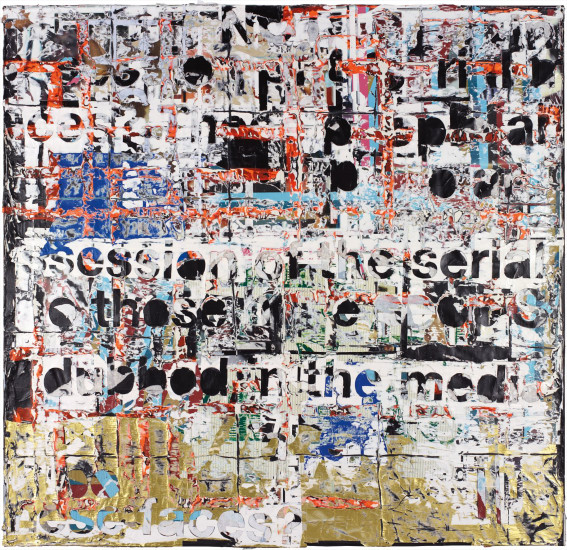 MARK BRADFORD
Rat Catcher of Hamelin III
mixed media on canvas
304.8 x 320 cm (120 x 125 7/8 in.)
Executed in 2011.