Following  a considerable amount of research and critical analysis of my own experimentation, I have slowly started to develop a deeper understanding of my creative intentions. My focus is firmly placed on uncertainties of tomorrow in the context of waiting for change. Time is a very important factor in the proposed intervention. My thinking has been extended by Samuel Beckett's 'Waiting for Godot', supported by considerations of several scientific and philosophical theories of being and perception of time space. I am interested in visualising a period of 60 seconds of waiting for something to happen and change.
60 Seconds are insignificant yet, simultaneously they are also a metaphorical milestone in the context of measuring time: 60 seconds becomes one minute, 60 minutes create one hour.
The plan is to create a series of 60 painting explorations inspired by research from my travels and observations of what people are waiting for, their cravings, dreams and desires. I plan to superimpose my painterly interpretations with photographic and, perhaps video pieces, before transferring them onto mirror card.  This process creates a very important element to my project. It evokes the feeling of ambiguity and unreality. The reflective surface forces the viewer to see his own reflection in the context of the broader work. It provokes a deeper reflection on the nature of uncertainties, their meaning, importance and hierarchy.  It proposes the question of what is important and what is insignificant?  It also reinforces what cannot be ignored as you see your own reflection in the problem.
Reflective surface has been widely investigated by a British artist Anish Kapoor through his 'Blood Mirror' series.
Stainless steel and lacquer
198.5×198.5×46 cm
My obsession with measuring time space comes from the earlier discussed artist Roman Opałka and his 'Counted Paintings'.
Carte de Voyage Detail (2875545 – 2878714),
1965, Medium:Works on paper, Ink on paper
Size:33 x 24 cm. (13 x 9.4 in.)
I am also looking at Marc Quinn and his piece titled
No Visible Means of Escape IV, 1996
Justine Khamara – Orbital Spin Trick #2, 2103
Self-shredding image by Banksy, "Love Is in the Bin," , 2018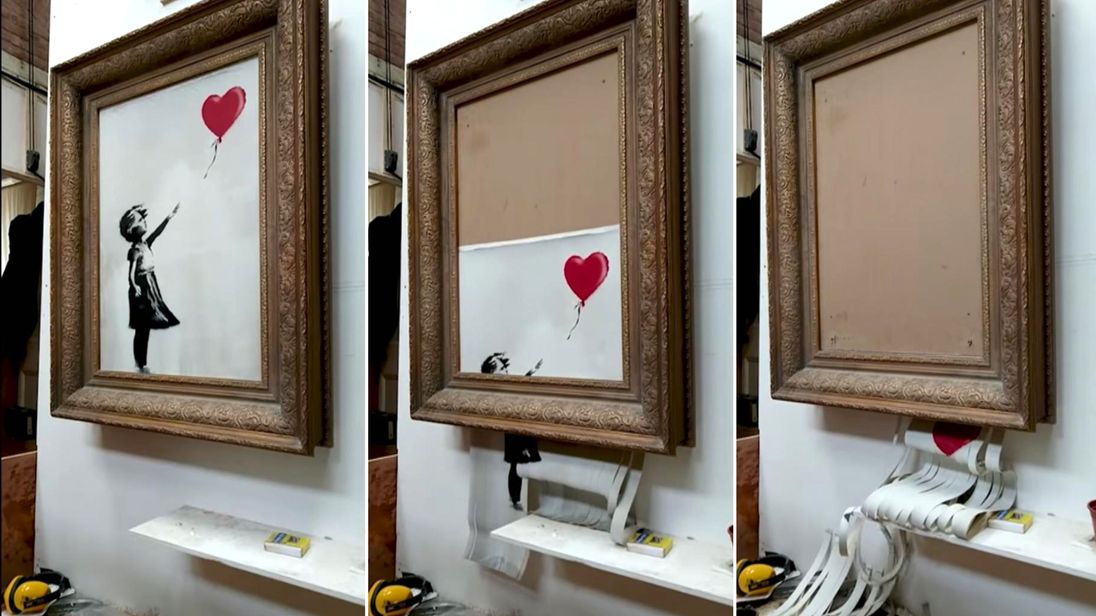 Finally, I have recently read a novel titled "Hunger" by a Norvegian writer called Knut Hamsun.  Throughout the book, there is an overwehelming sense of total isolation accompanied by craving for food and stomach pains.  THe experience is vivid and almost real.
The project aims to interpret 60 Seconds of waiting in anticipation of a change in the context of broad ranging uncertainties of the future.
Can the presence last forever
Will anything ever change?
Will this process have a positive impact on life?
Will my perception of existence continue to deteriorate, while making reality more and more miserable and unsustainable?
My work will be continuously updated and adjusted in the light of new discoveries and research findings until it becomes a comprehensive and holistic appraisal of human uncertainties of the future in the context of my observations and responses.
The initial experimentations are below :
First Second:
Second Second
Third Second
Fourth Second